Toon (Webtoon)

"Toon" is a webtoon found on youtube by user "Goldmarkshammer"

'



"Toon" is a small webtoon found on youtube by user "Goldmarkshammer" which is the compnay name who owns "Toon" and "AnimaShaun"
In the Beginning
Edit
Toon originally started in early 2009, when the show was piloted for the first time. The show was called "Rob and Ben" which were the names of it's creators. The original show had only 2 characters thought up of in 2008 when Rob Johnston (Original creator of "Goldmarkshammer" and "Toon") decided to start making cartoons.
After a number of attemps with friends to make the shows and other things, he eventually teamed up with Ben Joel to create their first webtoon, which was posted to Youtube. Eventually Rob started helping Calum Elliot in making a stop motion animation called "Stabie" which was cancelled after a major loss of files. The trio then created Toon which shortly after, Oli Jordon joined.
Rob made his first episode in 2010. It was "Toon: Journey to South America part 1" which he made with his good friends, Ben, Calum and Oli. Later that year they made the sequel "Toon: Journey to South America part 2" with his friends. At the ned of the same year they released a christmas special simply titled "Toon: Christmas Special".
In 2011 Rob made "Toon: Journey to China" with ben calum and his friend Jono, since Oli left.
Character Development
Edit
When "Toon" was first piloted the character's personalities were already thought up of, unlike AnimaShaun.
Toon is the smart one. not TOO smart as he does have his random monets but still intelligent. He is cunning in a way and the ideal "money maker"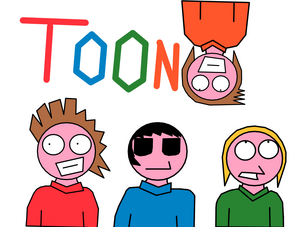 Ben is the random one. He is just really random and a tad insane. He isn't too bright.
Calum is the mature, bored one. He is never happy, really and is usually quite dull.
Oli's personality is a changing one. Sometimes he is like Ben, random. but other times he can be intelligent. He is basically a mix of the other characters. Also, he can defy the laws of physics via cartoon logic.
The "Toon" main Youtube channel - http://www.youtube.com/user/goldmarkshammer
The Goldmarkshammer website - http://goldmarkshammer.webs.com/
The "Toon" Wikia - http://goldmarkshammer.wikia.com/wiki/Special:WikiActivity